Case Study [Gordon Square Arts District: Discover Day]
We are excited to have been key assets in the design & marketing of digital media for advertising, social media campaigns for the 2012 Discover Gordon Square Arts District Day Event. We'll also be the official Gordon Square Photographer this Saturday, so make sure to say hi and pose for a few pictures for the Gordon Square website and the Gordon Square Facebook page.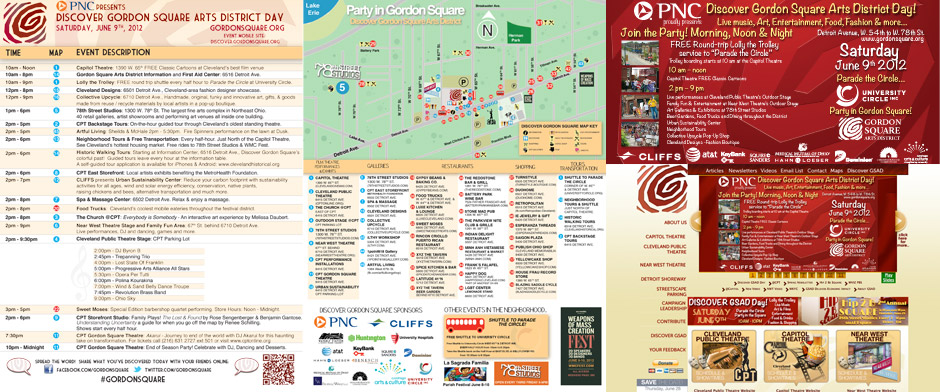 Design and Marketing responsibilities include:
Design of Program & Guide | Advertising for Newspapers & Magazines
Mobile Event Website
We are also happy to be a backer for the 2012 Weapon of Mass Creation Festival, the premiere event for designers in the Midwest.
[smugmug url="http://www.gregorywilson.co/hack/feed.mg?Type=gallery&Data=17559652_bmjcL3&format=rss200″ title="2011%20Discover%20Gordon%20Square%20Arts%20District%20Photos" description="Event%20Photography%20for%202011%20Discover%20Gordon%20Square%20Arts%20District%20Day" imagecount="100″ start="1″ num="200″ thumbsize="Th" link="image" captions="false" sort="true" window="false" smugmug="false" size="M"] [smugmug url="http://www.gregorywilson.co/hack/feed.mg?Type=gallery&Data=12548534_45pH6X&format=rss200″ title="2010%20Discover%20Gordon%20Square%20Arts%20District%20Photos" description="Event%20Photography%20for%202011%20Discover%20Gordon%20Square%20Arts%20District%20Day" imagecount="100″ start="1″ num="200″ thumbsize="Th" link="image" captions="false" sort="true" window="false" smugmug="false" size="M"] [smugmug url="http://www.gregorywilson.co/hack/feed.mg?Type=gallery&Data=17582355_m3kNBm&format=rss200″ title="2011%20WMCFest%20Photos" description="Event%20Photography%20for%20Weapons%20of%20Mass%20Creation%20Festival" imagecount="100″ start="1″ num="200″ thumbsize="Th" link="image" captions="false" sort="true" window="false" smugmug="false" size="M"]